Surgical Guides

At Group 4 Dental Lab, we use 3Shape Implant Studio® CBCT planning software for surgical guides. Implant Studio creates a simplified and predictable top-down digital workflow for implant procedures.

It enables the digital planning of single to complex implant procedures by considering the esthetics and intended final restoration as well as the overall clinical situation. Professionals can also use Implant Studio to cost-effectively create, print and mill their own surgical drill guides. Click here to learn more.


Pilot Guides
We understand that prosthesis and implant planning is an important part of the process

At Group 4 Dental Lab, we understand how important planning prosthesis and implant placement is to you and your clientele. That's why we offer the most popular pilot and surgical guides on the market at great prices.

What We Offer
We are able to produce highly accurate pilot guides using virtual visualization of the bone, soft tissue, and opposing/adjacent teeth. We are able to create these guides using ample datasets that include models, molds, or simple scan appliance files that incorporate fiducial markers. Our team of highly professional and skilled CAD/CAM technicians are able to craft the base models for the pilots using this data you send to us.

These Pilot Guides allow for predictable implant placement for everything from a missing too to an edentulous jaw. Whatever your perfect case scenario is for your treatment plan, we can help to make that a clinical reality with our customized surgical templates. Whether you need guided pilot drilling or fully guided implant insertion guards, we have the answer.

Increase Patient Satisfaction
Custom disposable drill stops allow depth control in guides that both include tubes. Our guides offer you a retentive, stable fit that are usable in posterior areas. This kind of reliability allows you to achieve the best outcome with little extra patient discomfort.

Please call us today at (503) 297-2431 to place your case order. If you prefer email or need to contact us after normal business hours, drop us a line at office@group4dentallab.com and we will get back to you as quickly as possible. We are happy to pay for all shipping to and from our facility.


Fully Guided Surgical Guides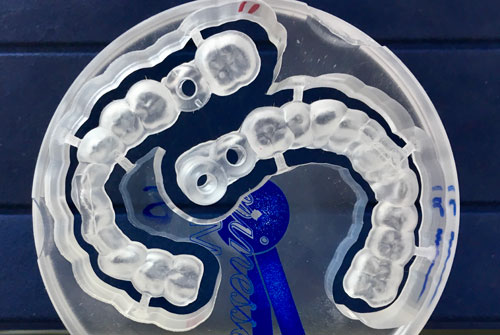 We want to guide and assist you in your case planning and surgery

Group 4 Dental Lab will design your treatment plan and fabricate custom made surgical guides to help you give your clients what they deserve – a hassle free surgery. These guides assist you in performing implant surgeries with high efficiency, using precisely measured and placed guides that result in safe and predictable results every time. The aesthetic results of the restorations that these surgical guides make possible are unparalleled and offer results that you can be proud of.

The Three Surgical Guides Group 4 Dental Lab Provides
At Group 4 Dental Lab, our goal is to provide you with everything you will need to perform perfect procedures for every case you send us. The following is a list of the surgical guides that we provide to meet all your implant needs:


•
Bone Supported
Typically used to assist in partially or fully edentulous cases, bone supported guides are placed on the jawbone itself. The jaw needs to have sufficient bone surface and support for these bone supported surgical guide to be safely and effectively positioned.
•
Tooth Supported
When working on a single tooth or partially edentulous restoration case, many times the tooth supported surgical guides provide the best results. As the name implies, this guide is placed directly over the teeth.
•
Mucosa Supported
Mucosa supported surgical guides often offer suitable solutions for fully edentulous restoration cases. These guides offer a minimally invasive approach to the bone supported guides, as they simply sit on the soft tissue of the arch.

Guides come with removable sleeves that increase in drill diameter to allow you to step your bits up slowly with maximum accuracy.

Please call us today at (503) 297-2431 to make your case order. We can also be reached at office@group4dentallab.com during or after office hours. We pay for shipping of all cases to and from our facility so that your practice can focus on it's patients.